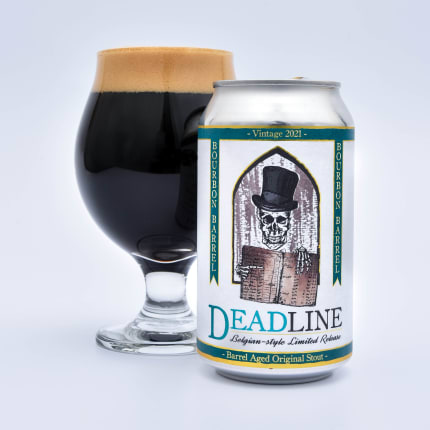 Deadline (2021)
Taxman Brewing Company
---

Find and rate beers like this on the Tavour app!
---
A Note on This Beer
There's a reason so many of us dark beer fans get excited every tax season! No, we haven't completely lost our marbles.
It's time for Taxman Brewing's annual Bourbon Barrel-Aged Belgian Stout, Deadline! Manage to grab this limited release, and there's definitely reason to celebrate.
To craft this bold brew, Taxman used a blend of Belgian artisan malts and Belgian candi sugar. These form deep molasses and roasty chocolate flavors, and a supremely smooth body. Madagascar vanilla beans add a sweet note of creamy caramel. Finally, a layer of oaky complexity peeks through from the Bourbon barrel-aging, complementing the boozy, 14.8% ABV finish.
Usually, the only way to nab some cans of this sumptuous Stout is at Taxman's Deadline release block party. Even then, these brews are hyper-limited because of their barrel-aging.
But, if you tap that 'Get it' button, you'll have a chance to taste this smooth sipper by only lifting a finger. And next year? You might just be one of the lucky few stoked about tax season, too!
Tavour strictly supports independent beer. Taxman Brewing Company is certified independent by the Brewers Association
---
Reviews
4.34
4.5
Fantastic bourbon taste, with sweet molasses finish. ABV well hidden. Definitely a one and done affair, as the sweetness combined with the high ABV will make you regret otherwise.It's a really nice Belgian strong ale, and not really a stout.
4.5
Deliciously thick and tasty. Be warned it has a bite because of its high alc content
4.25
Deep, roasted cocoa powder with some dark stone fruit characteristics. Smooth vanilla finish.
4.5
A finely crafted bourbon barrel stout. Just the right amount of sweet to temper the booze. Excellent mouth-feel makes this a near perfect winner!
4.25
The Belgian malts work great with the barrel aging.
4.25
Excellent barrel aged stout! The bourbon warmth yields to an alcoholic sting.
5.0
Dead on!
4.75
Has a nice dark richy and creamy taste with a hint of bourbon in the mix, it's a real nice sipper. Plus it gives a nice little buzz.
4.25
12oz can from Tavour. Almost black pour, ring of beige head. Sweet, boozy aroma. Bourbon barrels are the first thing you taste also. Belgian stout flavors are evident after the big alcohol blast. While this seems to be all about the ABV, there are other flavors (licorice) and textures in there for a layered approach. I'm really enjoying this, and Taxman has been a favorite of mine for their big Belgian ales.
2.25
I wanted to like this one, but darn it, the bitterness is just simply overboard. My friend who has drunk pretty much anything from brandy to bacardi, said the bitterness on this one is just simply "too much".
3.75
Bit thin for my preference
4.0
Straight up BA stout.....good!
3.75
This one hits hard. Doesn't taste as boozy as you would expect.
4.5
A nice barrel-aged stout that has a good maltiness that comes through. They did a good job with the aging because the bourbon taste comes through well. Molasses-like, mildly sweet, and boozy.
3.75
standard BBA
5.0
Spectacular
4.0
definitely strong but not much on flavor, kinda basic
5.0
a legitimate , phenomenal bourbon barrel aged stout. strong, boozy, packs a punch. outstanding!
4.5
Taxman rules!! A great stout with nice bourbon and booze notes.
5.0
Drinks like 15% and I mean that in a good way. It lacks in no areas, full flavored and full mouthfeel. It's sweet but not pastry stout level. Has all the roasted bitterness a big stout should have, has some coffee notes, chocolate and some slight coconut. Finishes with some licorice notes. Bourbon does not leave the palate while drinking this but it isn't over powering.
5.0
Enjoyed the subtle barrel aging with the sweetness of the malts. Almost seemed like a Belgium dark quad.
---