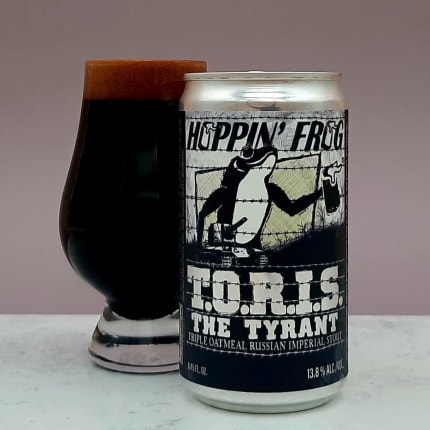 T.O.R.I.S. The Tyrant: Triple Oatmeal Imperial Stout (2017)
Hoppin' Frog Brewery
---

Find and rate beers like this on the Tavour app!
---
About This Beer
When the state of Ohio finally legalized beers that have an ABV higher than 12%, the legendary Hoppin' Frog crew knew exactly how to celebrate. They crafted a MASSIVE 13.8% ABV version of one of the most acclaimed dark beers in the world — their two-time GABF gold-winning Imperial Oatmeal Stout.
---
Tasting Notes
Coffee-soaked plum nuances and ribbons of melted Godiva cascade out of the pitch-black pour. As it warms, roasty undertones shine through even stronger, accentuating the lip-smacking toffee and raisin notes. At sips' end, an oaky, caramel-vanilla complexity delights, beckoning another belly-warming swig.
---
Reviews
4.11
3.75
Stout is the operative word on this one. Maybe too stout. This was enjoyable but the bitterness kept mounting as I drank it, which dragged it down a touch for me.
5.0
So Good!!
---